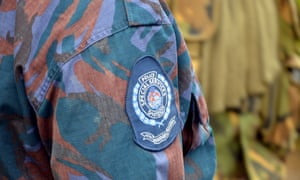 Killings take place in the Pacific nation's second largest city of Lae after 77 people break out of notorious Buimo jail
Seventeen prisoners have been shot dead and dozens are still at large after a mass escape at Papua New Guinean jail.
At least 77 male prisoners from the notoriously overcrowded prison in the city of Lae attempted a mass escape on Friday morning. Only three were apprehended, and 57 remain at large. It's not yet clear who fired on the 17 men killed.
"These are undesirable people and will be a threat to the community," Lae police metropolitan commander Chief Superintendent Anthony Wagambie Jr said of the escapees. "The majority of those who escaped were arrested for serious crimes and were in custody awaiting trial.
"A good number were arrested by police last year for mainly armed robberies, car thefts, break and enter and stealing."
Local media reports the bodies are being held at the Angau memorial hospital morgue, under guard.
Residents of Lae, PNG's second biggest city, have again been warned of an increase in already high rates of crime.
The PNG prison system, and Buimo in particular, has been criticised for poor conditions and overcrowding.
PNG broadcaster, EMTV, reported the Lae prison held more than double its 400 capacity in February this year.
Wag­am­bie Jr warned members of the community not to shelter absconders. He also expressed concern about a rise in crime ahead of the upcoming PNG national elections.
The head of the Buimo prison has refused to comment to local media.